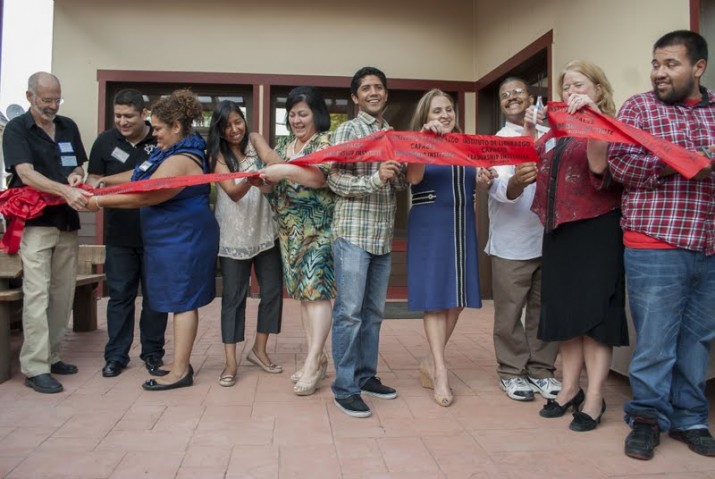 On August 25th, 2012 the CAPACES Leadership Institute celebrated the grand opening of its sustainably-built, passive house designed, debt-free, volunteer-driven building.
Joining for the celebration were over 250 attendees that included community leaders from Oregon and across the country, farmworker families, and special guest such as Irasema Garza, Senior Counselor to US Secretary of Labor Hilda Soli, Anthony Chavez, grandson of Cesar Chavez; and City of Woodburn's Mayor, Kathy Figley.
The event program was led by emerging young leaders who graduated from CLI's own leadership classes, Vicky Falcon and Hugo Nicolas. Folklorico musical Duo Piel Canela, from Vera Cruz, Mexico, opened up the festivities which were then followed by speeches from our invited guests.
"This Institute and this community have taken on the challenges of cultivating a new generation of leaders," said Irasema Garza.
Laura Isiordia, the CLI's Executive Director wrapped up the program by leading the ribbon cutting ceremony. "It was really impactful to see people not only excited about the building, but what's going to be happening inside," reflected Laura. "I felt the energy of support. It was quite reassuring to know that we have a common vision in growing new leaders."
The grand opening festivities concluded with tours of the CLI led by Gene Wixson that included photo displays of each of the phases of the building's construction.
The grand opening was preceded by a Strategic Gathering on August 24th. The gathering brought together over 50 key supporter and key leaders of our movement to shape the thinking that will guide the CLI's programs, communications strategies, and the organization's long-term vision.
Thank you for making the Grand Opening a reality!
Watch video of the CLI's Grand Opening and the events that led up to it