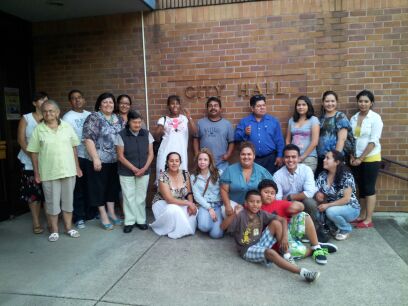 On October 13th, dozens of CLI supporters packed the Woodburn City Council Hall to show their support for creating an ordinance that would allow for the public display of murals in Woodburn. Young adults, artists, and civic leaders provided testimony in hopes to sway the city council to support the ordinance. Ultimately those young adults, artists, and civic leaders prevailed in their mission in changing the mural ordinance.
What began as an effort in fall of 2011 to ask the city for permission to paint the outside walls of the CLI, turned into a year-long campaign that has now become known as the CLI Mural Civic Engagement Campaign.  The CLI focused a yearlong campaign that would address several needs: 1) Ultimately paint a mural that would reflect the contributions of the farmworker community (Original goal), 2) Work with farmworker families to engage the Woodburn City Council to change its city ordinance, 3) Bring in a well-rounded muralist in Juanishi Orosco, who painted PCUN's mural (see below), to paint the CLI mural and be a mentor for young artists, 4) Foster a community  building activity that would bring together the Woodburn community and facilitate a dialogue about farmworker contributions.

Young emerging leaders like Aldo Solano distributed petitions in the farmworker community that was ultimately submitted to the city council. TURNista Julissa Ramirez, from CLI's Youth Leadership program, offered a testimony that argued how Woodburn would be stronger with an ordinance. Maria Andrade, a young adult who testified at the city council meeting remarked how she wanted to get involved with shaping her city and hopes to vote when she is eligible.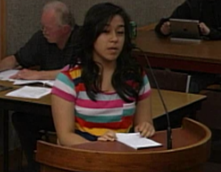 Despite the victory, community members and the CLI are very far away from being able to paint the mural; The city still has to create an arts advisory board, which would require the CLI to submit an application and pay a permit fee.
Though the CLI and farmworker families won a victory in the passage of the mural ordinance, and in the process developed new leaders who now engage with the city council, the CLI is far from being able to make the first brushstrokes to paint a mural. The next phase for the CLI Mural Civic Engagement Campaign, is to have farmworker families engaged with the city in shaping the arts advisory board by crafting the procedures and making recommendations of community members to sit in the art advisory board.