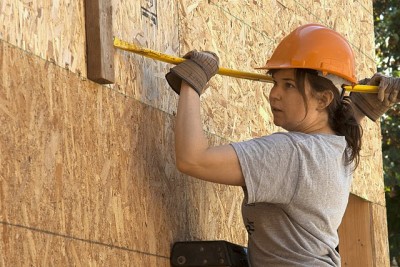 All kinds of folks have already volunteered to help construct the CAPACES Leadership Institute's permanent home.  We've hosted dozens of groups.
Last Saturday's group, however, was a first:  it was organized by and composed of women who are leaders in our movement.  Thirteen women-plus a few friends and supporters-turned out to make their contribution as well as learn and practice new skills.
Co-led by Mujeres Luchadoras Progresistas (a CAPACES-network organization) and Institute Executive Director Laura Isiordia, this volunteer brigade did more than nail wall sheeting, dig a post-footing  trench, prepare truss blocking, and de-nail boards for re-use.  "We sent a message today," Laura declared, "that women who have little experience in construction can do this work and we must do it.  We're already building the Institute in every other way."
Some local women have taken an active role in the Institute building construction before.  On September 24th, movement leaders increased that participation and made it more visible.  They also decided to set another brigade for Wednesday October 26th and they welcome the participation of more women-from the community and beyond.
To sign up for the October 26th women's brigade, contact Laura at lauraisiordia@fhdc.org   Other work brigades continue every Saturday.  Contact Javier Lara at javierl@pcun.org to sign up.
The Institute has more "firsts" to report.  On September 22nd, eight emerging leaders in our movement came together for the first session of:  "CAPACES 101."  It begins the Institute's first course, five two-hour sessions exploring our history, accomplishments, values, big ideas, and big challenges.  We plan to offer CAPACES 101 again in late October and several times during 2012.
In the next few days, we're poised to put up the Institute's own website.  Watch for our special alert and be among the first to visit it!