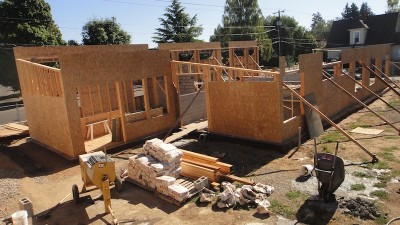 For the last month we have gotten up early and stayed up late running, pushing, kicking and swinging hammers left and right on our project. Our building, so recently begun, has in four short weeks become something very special: the nation's first Passive House office building. Right down to the fully insulated floor, the progress we have made could not have been possible without the generous support of people like Pedro Martinez, our volunteer "Masonry Master," and the more than six hundred others, children and adults, who have donated their time.
Our accomplishment has surprised even ourselves, but we are far from being done. In the next two weeks we need your support working inside our building–all the way to the trusses. Please consider donating your time to our worthy cause!
Contact Javier Lara at: Javierl@pcun.org or 503 997 4387 today!