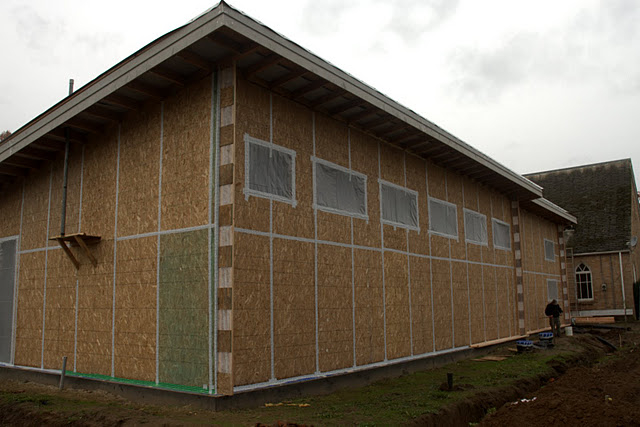 Though the CAPACES Leadership Institute building is still a ways away from complete, it's already changing the "look" of the town.
There's the vaulting roof line launching out towards Young Street.  And the dozens of cubic yards of "growing medium"—special soil—which volunteers have lifted and spread onto the living roof on two recent Saturdays.
Today, the building's fifteen-foot high north wall stares blankly at Young Street.  We envision that façade with a stunning 500-square foot mural.
But even if the building were finished today, we couldn't paint it.  Outdoor murals are not allowed under Woodburn's sign ordinance.  That's where changing the laws comes in.
On Monday, November 14th, some 25 movement leaders and community members attended the Woodburn City Council's regular second-Monday meeting at City Hall and waited for Mayor Kathy Figley to call out item 5c on the agenda.  It read simply, "murals."  At our request, the Mayor had directed City staff to prepare a background briefing on mural ordinances in other Oregon towns and cities and she had informally surveyed Council members' receptivity.
Muralist Hector Hernández presented images of his multi-story works which grace FHDC housing project in Salem and Independence.  Several young adults described their pride and satisfaction as participants in indoor mural projects.  The audience listened intently as Councilors batted around competing consideration—inspiring, tourist-attracting art vs. poor quality or "controversial" images.  The "First Amendment" was repeatedly cited.
To the central question "should the Council explore fashioning an ordinance?", the consensus was a cautious "yes."  They instructed the City Attorney to prepare a legal analysis and, legality permitting, signaled that the Planning Commission could iron out the details.  Community members are stepping forward to active engage this process.
The Institute will surely facilitate greater Latino civic participation in Woodburn and is already doing so, even before the Institute building has doors in place to open.  It could be that on November 14th, a future City Councilor caught his or her first glimpse of city government in action.  We may someday recall how, in 2011, our campaign for outdoor murals contributed to changing the look, the laws and the legislators in Woodburn.
Be sure to check out the latest construction photos
Work brigades continue most Saturdays.   Sign up to volunteer!