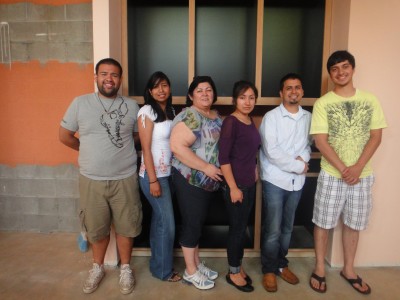 One year ago, today, the CAPACES Leadership Institute was "born" as an independent entity.
Since we gathered on July 13, 2011 in PCUN's Risberg Hall to sign the articles of non-profit incorporation, the Institute's staff has taken shape.  Laura Isiordia became Executive Director in August and by February, the staff numbered five, two full-time and three part-time
On July 1st, a Jaime Arredondo joined the CLI staff as the third full-timer.  He brings to the Institute his seven years of community organizing and fundraising experience at Farmworker Housing Development Corporation (a CAPACES network organization), as well as his deep commitment to the farmworker struggle.  Jaime came to Oregon from Michoacan, Mexico when he was eight.  He worked in the fields with his parents and siblings where he first encountered PCUN.  His parents are long-time PCUN members and, today, Jaime serves on PCUN's board.
Jaime will co-lead the Institute's "Foro de Liderazgo" or "Leadership Forum," a sort of test kitchen for leadership recipes.  He'll also be front and center at the Institute's upcoming supporter gathering in Oakland, August 12th at the East Side Arts Alliance.  If you live in the Bay Area and would like more information—or know someone there who might take interest in the Institute, please email Abel Valladares (abel@capacesleadership.org).
Jaime, Abel and PCUN Vice President Brenda Mendoza will be in the Bay Area then to present at the "GIFT" conference, organized by the Grassroots Institute for Fundraising Training.  The conference brings together hundreds nationwide to explore the intersections of fundraising and grassroots social change.  Our team will share lessons learned from the successful CLI capital campaign and from PCUN's quarter century of membership dues and services which have generated over $2,000,000 from farmworkers to support their union.
Have you RSVPed yet for the CLI Grand Opening at 5:00 PM on August 25th?  If not, decide today that you'll join us, and email Dalila Ortiz at dalilao@capacesleadership.org.
Jaime—and the rest of us—promise that the Grand Opening will be a celebration you won't want to miss!