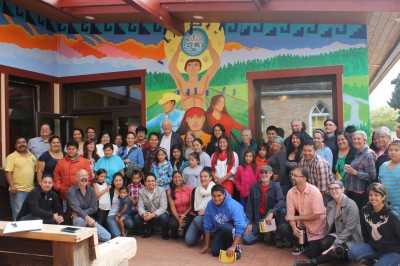 This past Saturday, over 75 supporters gathered to unveil the CLI's mural. As has become a custom in our events, youth lead the activities. One of those youth was Jessica Gonzales who shared a testimony about her experience painting the mural.Here is what Jessica (14) had to say:
"About a year ago, I went to a meeting at a building named CAPACES. There was a mural to be painted on that building, and the meeting was put together so that we could brainstorm what to put on it. The most exciting part was that a famous artist came up from California to help us paint it. It was supposed to be a community project, kids all over the town were to come an help paint this mural. I was one of those kids.
A year later, my mom got a call from the director of the building saying that the sketches were all drawn out and ready to put on the walls. So one day last summer, my mom drove me to CAPACES, which I hadn't seen in one year, and I started to paint little things. Like, bushes, flowers, and clouds, and I was getting tired of them. So I went up and asked Juanishi if I could start painting something a little bit bigger. So he let me start painting faces! After painting a couple faces, Juanishi let me start drawing some of the faces as well. Things like, their hair, their clothes, and also the items that they were holding. And let me assure you that it was much more fun than drawing bushes and flowers.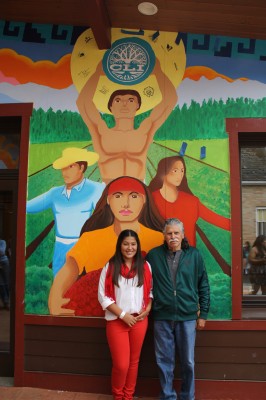 Over the next few days I got to know Juanishi very well. So well that one day he called me and my mom over and asked us to go and buy him a Chai Tea Latte at Starbucks. He stopped letting big groups of kids come and he asked me to come every day that I could. He told me that he was only letting certain people come and paint on the wall. I was one of those people. And I came everyday for the next two weeks. During those two weeks I became great friends with everyone that worked there. We all ate lunch together. We had an awesome birthday party for Larry, and we all got along so well. Juanishi started giving me hugs when I would walk through the door. I started to think of him more as a grandpa. He would walk us down to the ice-cream shop and get us all ice-cream. I was so honored that we were more like friends than anything else. Usually when you meet someone famous, they want nothing to do with little kids. But he was so kind to me. He never got angry with me, even when I would make mistakes on the mural. I didn't understand why he was so nice to me. All I knew was that I loved being there.
By the second week, I knew everyone's name. Even the most important people. They were all so kind, even if they did not have a big name at CAPACES. They all understood when I wanted to take a break from painting. Or when I wasn't feeling up to painting that day. If I forgot my lunch, they would share with me a part of theirs. CAPACES was like my home away from                                    home.                                                                                                                                                                    Jessica with Juanishi
My last few days there before I had to go back to school were so sad, because I knew that I wasn't going to be back for a while. Or at least until I got situated at school. I didn't really work that day, we all mostly sat around and talked together. It was really hard leaving, but I knew that I would come back and help again, that I would see my other family. My home away from home. I love all of them so much, and I was so honored that I was able to work with them."
Jessica Gonzales
Thanks to all of you for supporting us through this effort!
CAPACES Leadership Institute