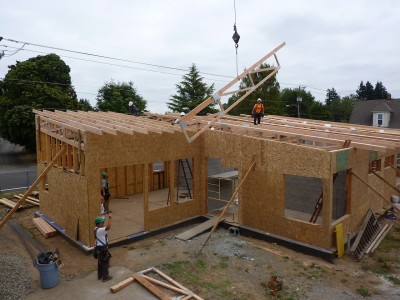 Last month, we reported to you on the drama of raising the CAPACES Leadership Institute building's walls.  That, it turns out, was nothing, compared to the roof trusses installation.
At dawn last Wednesday, a truck with a large crane and a load of custom-built trusses rumbled onto the building site.  By early afternoon some 70 trusses were all in place, thanks also to the quick and skilled work of our core building team, augmented by several volunteers from the Carpenters' union.
Thanks to time-lapsed photography, set up and edited by Gene Wixson (our chief construction consultant from Greenhammer), you can paste this link http://db.tt/fo4vuPe into your browser and see in 30 seconds a good amount of the installation.
On August 15th, passersby at the site saw only framed walls laying on the concrete slab floor.  Thirty days later, the walls were up, the internal concrete block walls finished, and the trusses installed, thanks to incredible support from individuals like stone mason Pedro Martínez and organizations like Portland Youth Builders.  This coming Saturday, the weekly work brigade will be composed of and led by women—both from the local community and our supporter network.
Our fundraiser last week in New York City was a clear success.  On a busy weeknight, 18 people gathered to learn about the Institute and deepen relationships with our movement.  We still need to raise about $30,000 from individuals to reach our goal; you can make a tax-deductible contribution online at https://npo.networkforgood.org/Donate/Donate.aspx?npoSubscriptionId=1002782&code=Donantes%202010)
We're not waiting to have doors to open in order to offer the Institute's first course.  Tomorrow, we'll hold the first class of the five-session course we call "Movement 101."  A dozen leaders new to our movement will dig into our history, our values, accomplishments, beliefs, and challenges, as well as articulate what calls them to serve and organize.
Sincerely,
CAPACES Leadership Institute