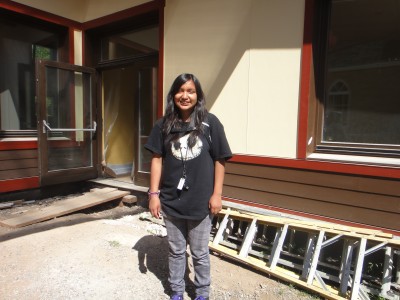 The CLI's first year of operation has produced many successes thanks to you and our many partners across the country. One of those partners is the Universalist Unitarian Veatch Program at Shelter Rock in Manhasset, New York. Veatch has been a major contributor to our movement generally, and, in particular, to establishing the CLI.
The Universalist Unitarian Veatch Program is so excited about our work underway that they've offered the CLI a $5,000 matching grant. Their match offer is motivated by their desire to see the CLI get off to a powerful start in its new home and they're calling on others to help make that a sure thing. Can you help us?
Your support will help us continue to develop leaders like Julizza Ramirez, a 16 year old from Woodburn, Oregon. "There are a lot of issues in my community I want to help change. I want to learn to organize, engage with city leaders and create the changes necessary to make our city healthy and vibrant, "said Julizza.
Julizza is one of several youth enrolled in the CLI's TURNO Program. TURNO is a new initiative that's creating a path for capable and motivated youth to embrace and prepare for long-term movement leadership. Despite joining TURNO only a few months ago, Julizza has wasted no time putting in practice her leadership skills. Julizza and several of her peers are leading a campaign to change the City of Woodburn's sign ordinance to allow for publicly displayed murals. The law change would allow the CLI to paint a mural on the building wall looking at Young Street and on other parts of the Institute exterior.    
 "It is stories of young leaders like Julizza's that inspire us to support organizations like the CLI. They are in the front line cultivating leaders to create positive change in their communities," said Victor Quintana, the senior Program Officer at the Universalist Unitarian Veatch Program.
To receive the grant from the Universalist Unitarian Veatch Program we need to raise the matching $5,000 dollars by August 25th, 2012, the CLI's Grand Opening date. We hope you can help us meet our goal. Thank you.
Here are the two ways you can make a tax-deductible donation to support the CLI:
Send a check payable to "Willamette Valley Law Project" to 300 Young St., Woodburn, OR 97071
Go to www.pcun.org/getinvolved/donate and make an online contribution to WVLP
Or Click on the green "donate" button on the top right half of the page.
In unity and with gratitude,
Laura Isiordia
Executive Director
CAPACES Leadership Institute
laura@capacesleadership.org
P.S- You are invited to our Grand Opening on Saturday, August 25th. The ceremony begins at 5:00 PM and will take place in 356 Young St., Woodburn, Oregon. To RSVP please contact Dalila Ortiz at dalilao@capacesleadership.org, (503)980-5724 or online: www.eventbrite.com/event/3777719260